By Maureen Reed, Executive Director, Nobel Peace Prize Forum
It ranks as an impressive testimony to international cooperation, scientific know-how, logistical expertise, and "ordinary heroism." As one of the few "good news" stories of the day, it was barely a footnote to yesterday's "bad and getting badder" headlines. When Syrian chemicals killed and sickened hundreds just a year ago, it would have been considered laughably unlikely. And any talk of it being completed ahead of schedule would have been rightfully ridiculed. What is it? 
Of course, the notable event is the destruction at sea of all existing Syrian chemical weapons.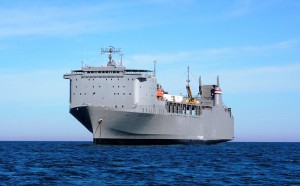 A lot has happened for the better in the past year. After unleashing the toxins on civilians last July, Syria admitted that chemical weapons existed and had been used. In subsequently signing and ratifying the Chemical Weapons Convention under intense international pressure last fall, Syria allowed the Organisation for Prohibition of Chemical Weapons to oversee events that culminated in yesterday's good news. Despite the harrowing challenges of transporting Category 1 chemicals across bloody, conflict-ridden territory, the OPCW loaded them without incident onboard a Danish ship, which then sailed half way across the Mediterranean to an Italian port.
In Italy the cargo was transferred to the U.S.-owned container ship Cape Ray. Outfitted with technology which could safely destroy its hazardous cargo of sarin precursors and mustard gas, the Cape Ray retired to international waters to carry out its duties. Now neutralized but still considered hazardous, the residual chemicals will be sent for disposal in Finland and Germany.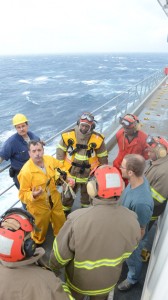 Although it is rather easy to name the countries and agencies involved in this complex feat, it is not easy to estimate the number of human hands which have contributed to the successful outcome. Many of those hands belong to ordinary dock workers, data analysts, sailors, technicians, and inspectors who likely do not consider themselves heroes. If asked about their work, like heroes everywhere they probably would shrug their shoulders and say they were simply doing their job.
There remains another riddle. Of the six countries (Angola, Egypt, Israel, Myanmar, North Korea, and South Sudan) who remain outsiders to the world's commitment to eliminate these indiscriminate weapons, which will be the next country to step forward? The OPCW is not alone in recognizing that bringing pressure to bear on these six will require ordinary citizens to vigorously voice their abhorrence regarding the production, storage and use of chemical weapons. That act doesn't sound like heroism either, but it is.