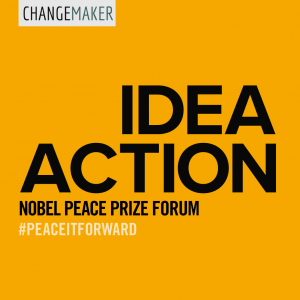 Leading up to this year's forum, the Nobel Peace Prize Forum is collaborating with Changemaker to launch a podcast mini-series featuring some of the speakers. We'll learn how they came up with their ideas for peace and what steps they took to make a change.
This episode features Reginaldo Haslett-Marroquin. Growing up in Guatemala, Haslett-Marroquin lived with his family on a small farm. After studying agriculture and business in Guatemala and the United States, he settled in Minnesota, and founded Peace Coffee, a Minnesota-based fair trade company. He also served as a consultant for the United Nations Development Program's Bureau for Latin America and as an advisor to the World Council of Indigenous Peoples and was a founding member of the Fair Trade Federation. Through all of this, Haslett-Marroquin developed an idea to completely transform farming as we know it. This farm would produce healthy and organic food, regenerate the soil, and help farmers earn a good living. Seeking to turn his plans into reality, Reginaldo needed a team and found support with Main Street Project. Working together on this idea they found a solution centered around one powerful animal – the chicken. This method, known as the Poultry Centered Regenerative Agriculture System, has transformed the fields of food and agriculture. At the Forum, Haslett-Marroquin will lend his view to discussions on the role of worked owned cooperatives in societies around the world. We are very excited to welcome him to the Forum. Listen to this episode to hear more about Reginaldo's theory for change.
Learn more about Main Street Project.
The Ideas to Action Podcast is available on iTunes and SoundCloud. Listen to the second episode:
Music in this podcast is by:
Lee Rosevere – CC BY-NC 4.0
Ingenuity
Josh Woodward – CC BY 3.0 and CC BY 4.0
Border Blaster
Symmetry and the Pocket of Angels – Instrumental
Perfect